As a long country, Vietnam has a diverse culture, including its cuisine. Vietnamese food varies from the North to the South with each province having theirs own proud dishes.
If you cannot spend a long holiday in Vietnam to try every dish, please do not forget to try the most famous dishes as follows:
1. Phở – Beef noodle soup
Phở may be the most popular dish of Vietnam. Basically, it's a beef noodle soup with flat rice noodle, although nowadays there are other varieties such as chicken or seafood. There are also various versions of Phở in different regions of Vietnam, although it originates from Hanoi, the capital city in the North.
It may look simple, but to make the right broth for an authentic Hanoi Phở, you need to follow a strict formula of beef bone and Vietnamese spices such as ginger, onion, pepper, star anise, black cardamon…
2. Bún chả – Barbecued pork with rice vermicelli
Also a Hanoi dish, Bún Chả was chosen by President Obama as his favourite street food to taste during his State Visit to the country in 2017. The combination of barbecued pork, rice vermicelli and fresh vegetables in a carefully made fish sauce will give you an unforgettable flavour of Hanoi.
3. Chả cá – Grilled fish with rice vermicelli
Rice vermicelli (or "Bún" in Vietnamese) must be the favourite ingredient of Vietnamese people so they have it in many dishes. Grilled fish (or Chả cá in Vietnamese) is so famous in Hanoi that the whole street where the dish was invented was named after it. Nowaday, "Chả cá" street is still attracting many Vietnamese people as well as tourists, who want to taste a wonderful combination of many ingredients. If you are brave, please ask for "Mắm tôm" – shrimp paste, which is not easy to taste, but will add so much flavour to the dish.
4. Bún bò Huế – Hue spicy beef vermicelli soup
Another dish with rice vermicelli, but this time it is a dish from Hue, the former capital in the central region of Vietnam. Made from various ingredients including beef, pork, vermicelli and lots of vegetables, the soup has a typical flavour of lemon grass and Hue shrimp paste. And be prepared for a very spicy taste, which is preferred by Hue people.
5. Cao lầu Hội An – Hoi An pork noodle
Cao lầu – Cao lau is the most traditional dish of Hoi An, an ancient town in Quang Nam province. Its taste is unique in comparison with other Vietnamese food, with noodle made from wheat. Historically, Hoi An used to be a city of interwoven multi-cultures, including Japanese, Chinese, Champa, and Vietnamese. This may be the reason why Cao lau made from wheat noodles, which is similar to Japanese soba, Chinese char siew, lots of vegetables and herbs in Vietnamese style.
6. Mì Quảng – Quang noodle
Looking similar to Cao lau, Mì Quảng is another signature dish of Quang Nam province. Made from a broader range of ingredients, Mì Quảng is a combination of chicken, pork, prawn, eggs… The dressing sauce for Mì Quảng is also lighter, with a slight flavour of roasted peanut.
7. Gỏi cuốn – Summer roll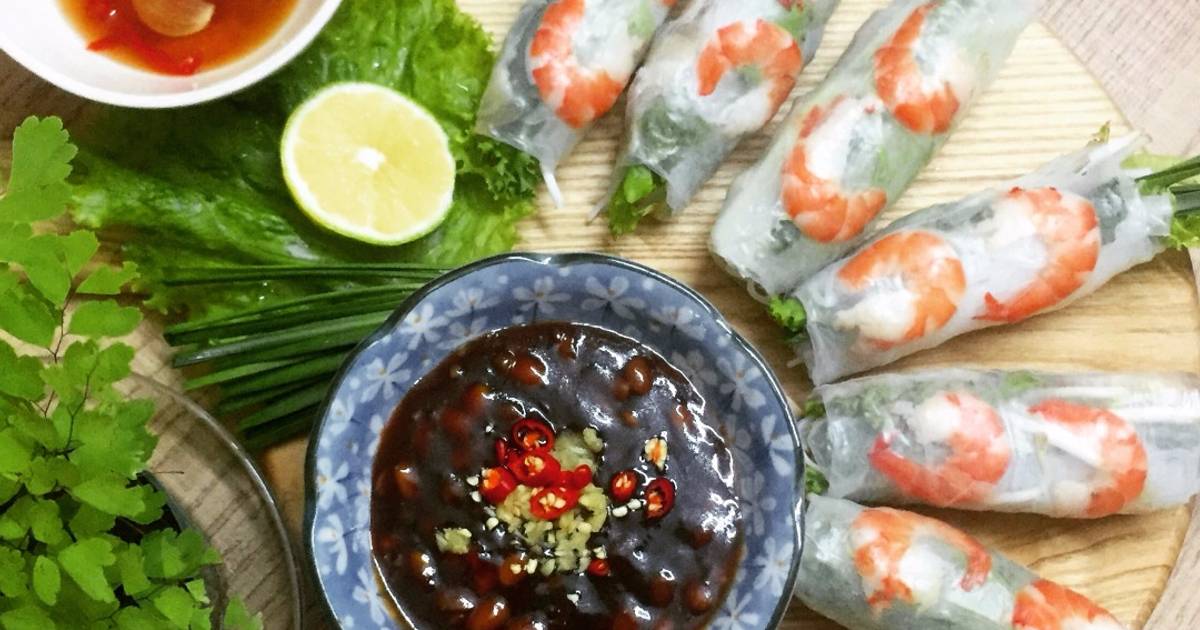 Gỏi cuốn or Summer roll may be the most well-known Vietnamese dish, typical for the freshness of Vietnamese cuisine. Originating from the South of Vietnam, where the weather is hotter, the freshness of Gỏi cuốn also helps reduce the tropical heat. Simply made from prawn, pork, rice vermicelli and lots of herbs, all is wrapped and rolled within a rice paper. Dipped in a specially made sauce, one bite of Goi cuon contain the whole sky, earth and species, which is also the main philosophy of Vietnamese cuisine.
8. Bánh xèo – Vietnamese pancake
Bánh xèo – the Vietnamese version of pancake adds a lot more ingredients to the original Western pancake, such as pork, beef, prawn, and of course, lots of herbs.
9. Cơm tấm Sài Gòn – Saigon broken rice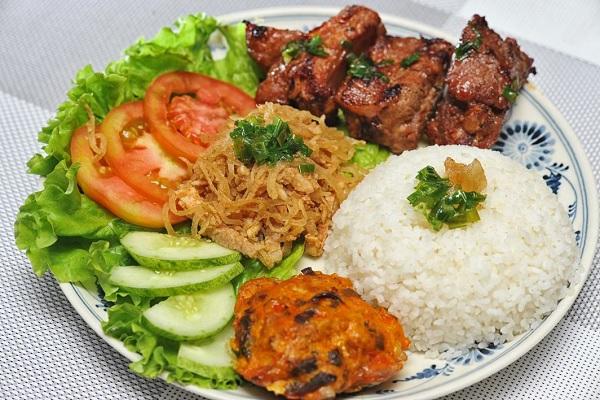 This is a typical dish of Saigon, or Ho Chi Minh City, the largest city of Vietnam located in the South. People often eats the broken rice with grilled pork or ribs, shredded pork skin, fried egg, pork meatloaf, pickled carrot, and sliced cucumber. Broken rice is actually the head of the rice grain containing the embryo, which is considered to have the most nutritious value.
10. Bánh mì – Vietnamese baguette
  
In fact, Banh mi has become an internationally recognised word. Introduced into Vietnam by the French during colonial period, Vietnamese people has localised the simple food, making one of the best street food in the world. The whole baguette is kept as a whole, with many other ingredients put inside, such as barbecued pork, pork sausage, pate, pickled vegetables, and chili sauce.